Emmersion
Underwater Photography
Helping all ocean lovers start taking great photos below the surface.
 Do you love the underwater world? Wish you could take great photos below the surface?
You've come to the right place!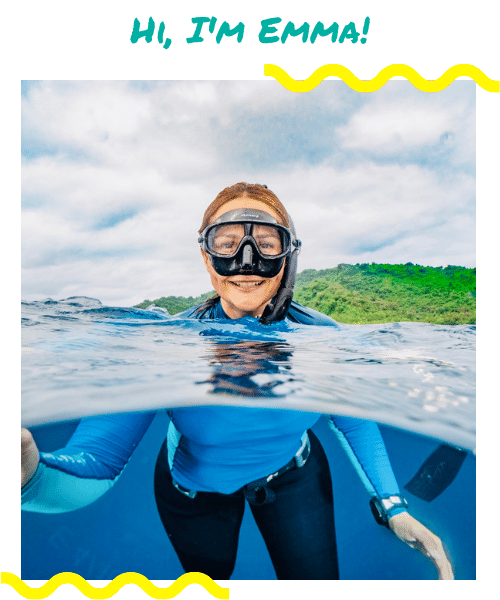 Hello fellow underwater lover!
I'm your Underwater Photography coach, Emma.
Underwater Photography is a unique hobby – you're viewing incredible things from a different perspective, making it a special experience that you want to capture.
But getting started with Underwater Photography as a beginner can sometimes be overwhelming – the equipment, accessories, settings and in-water conditions can be challenging!
Never fear, I'm here to help make it easier for you to dive into this fantastic hobby!
Are you a beginner to Underwater Photography? Perhaps you have a compact camera or you're thinking of buying one?
Stop scrolling through numerous sites trying to find all the answers and start with my Online Mini Course! 10 lessons of everything you need to know to orientate yourself with underwater photography when you first begin.
ONLY $197 AUD for all 10 lessons (valued at $1,899 AUD)!
Learn Underwater Photography from Anywhere In The World!
A great starting point for snorkelers, freedivers and scuba divers who want to start taking pictures underwater. Here are 10 lessons to get you started! You'll learn about the basics of photography, underwater settings, equipment, lighting, shooting below the surface, and post-production techniques.
One-on-one lessons tailored to your questions and your equipment. These happen via Zoom, so you can get tailored advice from anywhere in the world.
For those who in the Perth, Western Australia, group workshops are available as scheduled on evenings and weekends.
One of my favourite things about the underwater world is the community of awesome people that comes with it! Want to join?
Sign up for the Emmersion Underwater Photo Club! It's completely free and you'll receive underwater photo tips, event invitations and a link to the Emmersion Underwater Facebook Group (a knowledge-sharing, online community of like-minded, passionate underwater lovers) straight to your inbox!
Let us know your name, email address and where you are from, so we can send you tailored content.
Did a private workshop with Emma today she is extremely knowledgeable and can explain concepts very well. I would definitely recommend to anyone looking to learn about photography and its application underwater. Looking forward to taking some good photos on my trip up to Exmouth 🙂
Been on several dives with Emma and her accompanying photographic equipment. Be it macro and wide angled lens, she doesn't disappoint with stunning photos. When teaching she is very patient and helpful. Get on one of her courses and learn to maximise your quantity of quality photos in what is always a limited dive time!
Did the Underwater photography basics with Emma and it was amazing! She caters to everyone's knowledge and interests, and is the best with helping me decide what gear works best for me! I still go to her for advice all the time for everything underwater and photography related - 100% recommend doing her workshops if you're interested in getting into underwater photog!
Underwater Photography Exposed Blog
It's important to understand one thing about underwater photography: A great camera is not always going to create great images.  Personally, I love when people see my photos and say, "Oh my gosh, your camera is so good!" I never fail to...
read more