Online Mini course
Learn all the essentials to get started with Underwater Photography!
Let me guess… 
You're seeing more underwater photos in your social media feeds, and you wish you could take photos like that? 
You've been thinking about buying an underwater camera, but I don't know where to start or what to buy?
You have a GoPro, Olympus TG camera and want to know how to get GREAT underwater photos with it?
You've invested in a bigger underwater photography system, but you're not getting the shots you hoped?
Then the Online Mini Course is for you!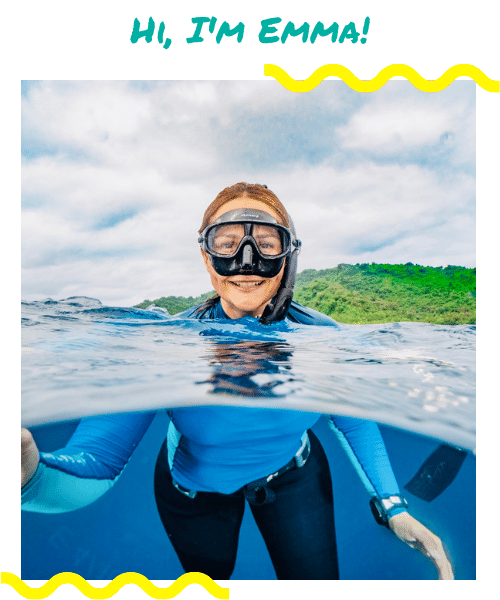 I'm here to help you get started in Underwater Photography because I remember just how overwhelming it was when I first started in 2011!
As a water soul, I grew up in and around the ocean and became a certified dive instructor in 2009.  It wasn't long until my passion and studies of photography combined! Unlike many professional underwater photographers, I don't sell or publish my images in competitions, as I focus my efforts on what I love most, teaching. 
With over a decade of experience facilitating courses, I've created this one to help all ocean lovers start capturing their moments below the surface.
ONLINE UNDERWATER PHOTOGRAPHY MINI COURSE
A great starting point for snorkelers, freedivers and scuba divers who want to start taking pictures underwater with ANY camera. Here are 10 lessons to get you started! You'll learn about the basics of photography, underwater settings, equipment, lighting, shooting below the surface, and post-production techniques.
Lesson One: Exposure 
First things first: Learn how to apply fundamental photography knowledge underwater. Explore the exposure triangle and understand how to manipulate light with Emma.
Lesson Two: Composition
We don't want you floundering on your first photo dive, so learn how to capture with intention! Get ready for some quality-determining tips and tricks to nail photo composition.
Lesson Three: Camera Settings
Auto mode is not always the best way to fly for underwater photography. Learn how to adjust camera settings to take that perfect picture below the surface.
Lesson Four: Photographic Style
A quick look at different styles of underwater photography so you can start planning your next underwater shoot. This lesson will help guide your creative direction. 
Lesson Five: Camera & Housings
We get it, picking the right gear can be a headache. Emma's here to relieve some of the stress when it comes to deciding on the camera, housing and accessories options that best suit you.
Lesson Six: Introduction to lighting 
Lighting can make or break your underwater photography! Throughout this lesson, you'll get to know all the different types of lighting and lighting equipment options for underwater photography.
Lesson Seven: Ambient lighting and built-in flash lighting
Sometimes we don't have access to big strobes and lighting, or the environment is just better suited to natural light. In this lesson, Emma covers what to consider when using ambient light or a small built-in flash.
Lesson Eight: External Lighting 
External lighting such as strobe lights or video lights can really bring your underwater photos to life! This lesson introduces you to the different external lighting options.
Lesson Nine: In-water Shooting
Ready to dive in to the water?  Emma will now let you in on her pre-dive checklist to help you get your camera system in the water safely. Also learn about underwater photography etiquette and safety considerations for shooting below the surface. 
Lesson Ten: Post-production techniques
Do you see other people's photos and find yourself wondering how on earth they make them pop like they do? Post-production is an important piece of the puzzle! In this lesson, we dive into editing techniques and post-production tips and tricks.
Did a private workshop with Emma today she is extremely knowledgeable and can explain concepts very well. I would definitely recommend to anyone looking to learn about photography and its application underwater. Looking forward to taking some good photos on my trip up to Exmouth 🙂
Been on several dives with Emma and her accompanying photographic equipment. Be it macro and wide angled lens, she doesn't disappoint with stunning photos. When teaching she is very patient and helpful. Get on one of her courses and learn to maximise your quantity of quality photos in what is always a limited dive time!
Did the Underwater photography basics with Emma and it was amazing! She caters to everyone's knowledge and interests, and is the best with helping me decide what gear works best for me! I still go to her for advice all the time for everything underwater and photography related - 100% recommend doing her workshops if you're interested in getting into underwater photog!
What's included in the course?
10 Video Lessons totally over 2-hours of learning time 
Access to the Emmersion Inner-Circle Facebook Group for students only 
Downloadable PDF of the In-water Cheat-Sheet
Downloaded PDF Pre-Water Checklist 
Exclusive invitations to upcoming events
Life-time access to the course 
ALL FOR ONLY A SINGLE PAYMENT OF $197 AUD
VALUED AT $1,899
Is this course suitable for snorkelers and freedivers as well as scuba divers?
Yes, absolutely! You don't need to be a scuba diver to do underwater photography. This basics mini course is designed for all underwater activities. 
Do I need to own a camera to get value out of this course?
Of course not! A lot of people do this course as a starting point before investing in any equipment. 
Is this course suitable for advanced or intermediate underwater photographers?
This mini course is for beginners, it's an entry level course for underwater lovers who are just starting in underwater photography. If you'd like more advanced lessons, you can book a private lesson here as the content will be tailored to your camera system. 
How much does the mini course cost?
The Underwater Photography Mini Course is currently selling at the promotional rate of $197 Australian Dollars for all ten lessons (that's $1,899 of value)! This is a one-off payment for lifetime access. 
Is there a prerequisite for the underwater photography mini course?
Not at all, anyone can start the Mini Course to learn basic underwater photography techniques. 
However, you do need a separate certification to go scuba diving or freediving. Please contact your local dive shop about these certifications. 
How long does it take to complete the mini course?
The Underwater Photography Mini Course consists of 10 individual lessons, so give yourself a couple of hours to complete in full. The beauty is that you have lifetime access and can come and go as you practice and learn more with your camera.
Do you offer refunds?
Given the nature of this product, refunds are not available.